Research Commercialisation Open Programme 2019
9th to 13th September 
This five-day course of lectures, workshops and visits in Cambridge, UK is aimed at those from anywhere in the world who wish to understand the basics of how new ideas and research results are commercialised at the University of Cambridge and in the wider Cambridge Cluster.
The course is open to university technology transfer staff, but may also be of interest to academic entrepreneurs, government advisors and policymakers developing knowledge-based economies wishing to spin-out or out-licence new technologies or deliver consultancy based on university expertise and knowledge from research.
Registration for the 2019 programme is not yet open, but you are welcome to express your interest for next year's course by contacting Shirley Jamieson, Head of International Outreach and Relations.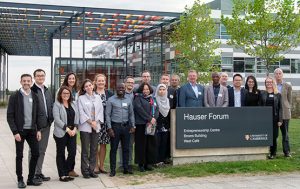 Click here to read a blog post about the 2018 programme.