Postdoc Business Plan Competition
The 2019 Postdoc Business Competition, co-sponsored by international law firm Taylor Vinters, and Hardcastle Burton Chartered Accountants, has now closed. 


The winners were announced on Thursday 31st October. 
Each year, Cambridge Enterprise and the Entrepreneurial Postdocs of Cambridge host a business plan competition for postdocs of the University of Cambridge. Whether it's a social enterprise or ground-breaking new invention, whatever your academic expertise, we want to hear from you.
Prizes to be awarded include:
*£20k & £10k investment sponsored by Cambridge Enterprise
*£5k investment sponsored by Cambridge Innovation Capital
*One year membership at ideaSpace for all finalists

To enter, postdocs must submit a business plan outlining their idea (even if it is not related to their research at the University). Full details of what the plan must include can be found within the competition handbook.
The market research we had to do for the competition helped us accelerate our start-up tremendously. We were also put in contact with the most amazing mentor. The connections we made with Cambridge Enterprise will take us beyond what we have achieved in the competition alone..
Competition timeline
Please click the graphic below for a detailed breakdown of the competition process, including previous dates and deadlines.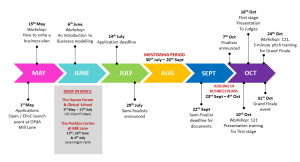 Competition sponsors


Taylor Vinters is an international law firm supporting the businesses which drive the innovation economy, and the entrepreneurs and private wealth that underpin them.



Hardcastle Burton provide specialist advice to technology based companies from start ups to established firms looking for business support throughout Cambridgeshire and the surrounding area.
Drop-in surgeries
To help with applications, Cambridge Enterprise hosts weekly informal surgeries at the Hauser Forum (West Cambridge), The Office of Postdoctoral Affairs (OPdA) on Mill Lane and the School of Clinical Medicine (click here for a full timetable). During the competition, if you would like to talk through your business idea, you can drop by any of these locations to discuss your queries with our colleagues. To schedule an informal chat at a different time, simply send us an email.
Professional business coaching workshops
All postdocs will be invited to attend a session on how to effectively employ the business model canvas, as a means to untangle their initial business idea, to see if it has real market potential. Later, after some independent investigation, postdocs will then be invited to a session on how to write up a business plan, with case-study examples, including details on what the competition judges will want to see in the business plans and why. If shortlisted as a finalist, applicants will also receive expert one-to-one pitch training to hone their business pitches.
High quality mentor matching
After the first selection round, each semi-finalist is matched with a mentor: a seasoned academic entrepreneur from Cambridge Enterprise's network. The mentors help to improve the business plans.
Grand Finale pitching event
Finalists will go on to pitch their business ideas to a panel of expert judges at the Grand Finale event, that took place this year at Downing College. You can find out about the winners here.
Important documents
*Please note: projects must be led by a current postdoc of the University or have a majority of team members who are current postdocs of the University. For an informal chat about your entry, please contact Senior Investment Associate, James Thomas.